Revolutionary technology and cutting-edge research is nothing new in the medical field. But in a world rocked by the disruption of COVID-19, public and investor interest in healthcare innovation has never been greater.
Research from Deloitte declared 2021 one of the biggest years ever for health-tech investment a revenue growth, while PriceWaterhouseCoopers called out Canadian digital health companies as triggering a paradigm shift across our nation's entire healthcare system.
Fields such as telehealth and remote care are changing how we deliver and access care today, while research into bio-wearables and robotics is defining entirely new realities for treatment tomorrow.
Regardless of what the future holds, this is a time of massive change — and great excitement — for healthcare technology in Canada. Surrey is uniquely positioned at its forefront, with public and private institutions, plenty of emerging talent, and trailblazing companies improving how we prevent, treat, and respond to disease.
Surrey and healthcare technology
Surrey is a city known for exciting tech research and innovation — and healthcare technology is one of its most important sectors.
Through its local educational institutions, Surrey is producing emerging new talent and groundbreaking research. Simon Fraser University (SFU)'s Mechatronics program is well-respected for innovation in healthcare robotics and is proposed to be the home of the province's second medical school. University of British Columbia (UBC), meanwhile, is expanding its medical education presence in Surrey City Centre with its medical teaching school and expanded Master of Physical Therapy program.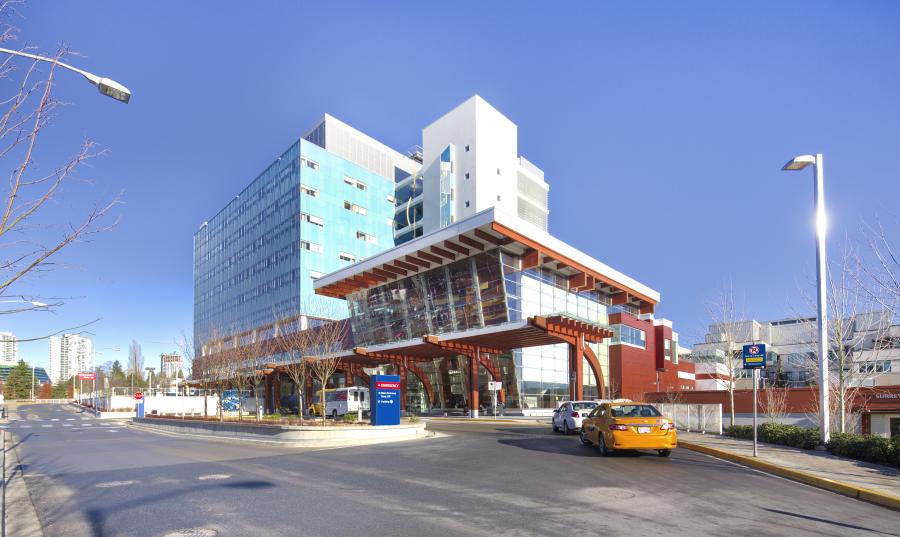 Both programs have easy access to Surrey Memorial Hospital — British Columbia's second-largest hospital and busiest emergency department — for collaboration, training, and clinical studies, and to the Fraser Health Authority, the province's largest health authority, serving 1.9 million people. Surrey will also soon be home to a second hospital, with a cancer centre, in the Cloverdale area. 
Complementing these institutions is the thriving ecosystem of more than 220 life sciences and healthcare companies in Surrey's Health and Technology District, where there are plans for up to 1 million square feet of wet-lab space. This district expands upon the infrastructure of Innovation Boulevard, created together by SFU, the City of Surrey and Fraser Health, and designed to lay the groundwork for future innovation and commercialization in the health-tech space.
Healthcare robotics, mechatronics innovation at SFU
Encompassing prosthetics, clinical training robots, robotic exoskeleton technology and more, healthcare robotics is a broad and rapidly developing field. Full of promising research and exciting innovation, the global medical robotics systems market size was valued at $2.3 billion USD in 2018, and is expected to reach $10.7 billion USD by 2026.
Due to the nature of these medical devices, research and development into healthcare robotics is much more land- and resource-intensive. For that reason, healthcare robotics demands not only the best emerging talent, but also large-scale manufacturing facilities.
Surrey is perfectly positioned to meet both needs for this emerging sector.
Home to the largest industrial land availability in Metro Vancouver, Surrey provides plenty of room for facilities of all sizes, where robotics companies can to research, iterate, experiment, and prototype. Centred around SFU's Mechatronics program, Surrey is also a hotbed of talent in engineering and robotics.
Mechatronics is an interdisciplinary field of engineering focused on computer-controlled electromechanical systems, with health tech and medical devices as a key application.
SFU's program, a preeminent space for Mechatronics research in Canada, produces a new, skilled cohort of engineers every year. Students partner with top health-tech and mechatronics researchers, applying their education to real, life-saving situations.
Blood pressure-sensing robotic technology
Drawing inspiration from the art of origami and the natural structure of leeches, SFU researcher Dr. Woo Soo Kim has developed sensor technology sensitive enough to monitor a patient's blood pressure just by lightly touching their chest.
The Leech-Inspired Origami (LIO) sensors could be installed on the fingertips of a humanoid, physician-controlled robot. With highly sensitive folding, grasping, and suction capabilities, the sensors could check blood pressure by registering electrocardiagram and photoplethysomgram data.
Woo envisions that these robots could be used to deliver medical care to patients living in remote areas, or for check-ups requiring little physical interaction.
A robotic exoskeleton to let patients walk again
Patients with paraplegia, spinal cord disorders, and many other conditions rely on wheelchairs for independence and mobility.
But what if, instead of navigating the world from a seated position, a device could let these patients stand and walk naturally?
That's the vision of Human in Motion Robotics. The company, which has its roots in SFU Mechatronics, has been developing the Exomotion lower-limb exoskeleton system since 2018, attracting serious media and investor attention.
By aiding the mobility of the hips and ankles, the device allows for a natural walking motion. It also stabilizes the upper body, so that the wearer can take normal actions such as throwing a ball or opening a door.
In 2018, the company was awarded a $50,000 Toyota Mobility Unlimited Challenge Discovery Award. The device is now in clinical trials in the United States and Canada, and Human in Motion is working to bring the protoype's cost down and make it suitable for the consumer market.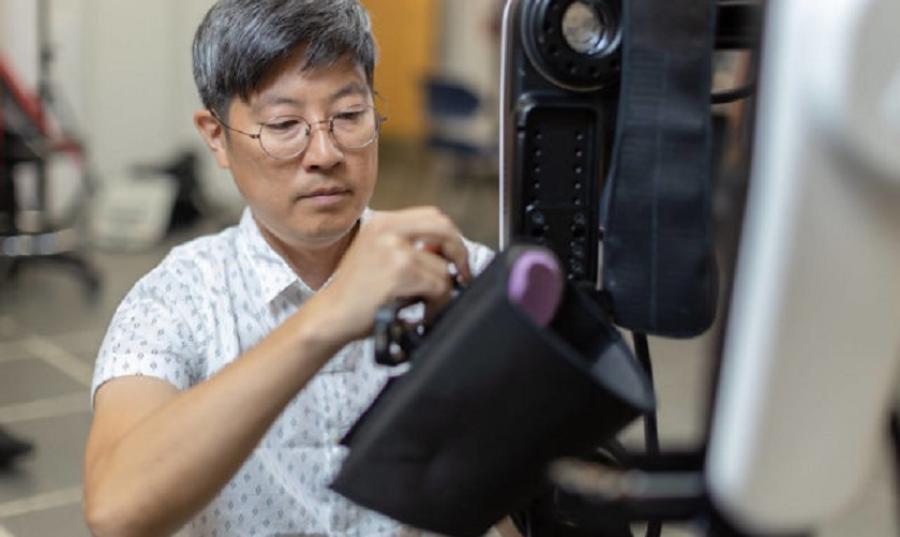 Bio-wearables
Bio-wearable medical devices are another exciting area of research and development in Surrey. As part of the Internet of Things, new opportunities for innovation within the bio-wearable space are expected to explode in coming years, projected to reach a market value of $534.3 billion USD by 2025.
Another SFU program, WearTech Labs, is currently under construction in Surrey's emerging Health and Technology District. At the national level, there's also interest in supporting and accelerating development in this sector; for example, Health Canada has expanded their review process in order to get digital health devices to market faster.
Bio-wearables are a well-established industry in Surrey, with groundbreaking devices already improving patient outcomes and quality of life.
Here are three firms bringing exciting bio-wearable technology to market:
BioInteractive Technologies: With the Tenzr Health device, BioInteractive Technologies is making injury rehab engaging, empowering, and even fun. Designed for hand, wrist, and elbow injuries, Tenzr gamifies the rehab experience. Patients attach sensors to the injured limb, which acts as a controller in a series of competitive exercises that guide them through the rehabilitation process. The company's patented sensing technology precisely measures strength, endurance, proprioception, control, and range of motion, both tracking those results for better outcomes and sharing them with the patient as a visualization of their progress over time.
Helius Medical Helius: Helius Medical helps patients manage the neurological symptoms of conditions like multiple sclerosis and multiple mild traumatic brain injury (mmTBI). The devastating physical symptoms of these conditions often have a neurological origin. Helius' portable PONS device allows patients to take a more independent, active role in managing their condition. The wearable PONS headset provides trigeminal nerve stimulation via the tongue. In combination with physical therapy, it's been approved in the United States to treat gait deficits in patients with multiple sclerosis, and in Canada for balance issues in patients recovering from traumatic brain injury.
Zennea: With the ZENS system, this Surrey company is developing a new treatment option for mild obstructive sleep apnea (OSA). Currently in clinical trials, the ZENS device is lightweight and comfortable, controlled from a mobile app, and adhered under the patient's chin. It was designed as a modern alternative to the bulky, heavy CPAP machines often used to treat mild OSA.
Remote patient monitoring and family care management
The COVID-19 pandemic, and aging populations worldwide, have put remote patient care into the spotlight.
Telehealth has emerged as a promising way to both empower patients, and make the most of healthcare professionals' limited time and resources. It also has many elder care applications, helping seniors live independently while maintaining safety and good quality of life.
Surrey's own population of residents over 65 is growing rapidly, with high demand for solutions that will preserve seniors' independence, while providing their caregivers with peace of mind. This demographic provides an opportunity for health tech companies to deploy their solutions locally, then refine them after studying their efficacy in practice.
Remote care innovation in Surrey
Surrey-based companies, such as Tochtech Technologies and Wellin5 Telehealth, are defining the future of remote patient care in two key applications: Supporting safe, independent living for seniors; and increasing the accessibility of healthcare through telehealth.
Tochtech Techologies offers a suite of remote care and patient monitoring products to make independent living safer, easier, and more fulfilling for senior citizens.
Their flagship Vericare system monitors seniors' activity at home, then keeps family members updated with any potential safety alerts. With its non-camera, non-wearable system, Vericare is system built to respect safety, dignity, and privacy.
The company also offers smart oven knob technology for safer cooking, a voice-activated personal care aide, and a sleep tracker.
Demand for mental healthcare services in British Columbia far outstrips supply — especially since the pandemic. Often, patients who badly need assistance are unable to find a provider, spending months searching for a professional before they can even start working on their mental health issues.
Wellin5 Telehealth is working to close that gap, by providing clients with easy access to video counselling sessions. After registering with Wellin5 online, patients are matched with a qualified counsellor and are ready to meet within 48 hours. Professionals are available through the platform with a range of specializations, from grief to addiction to workplace burnout and stress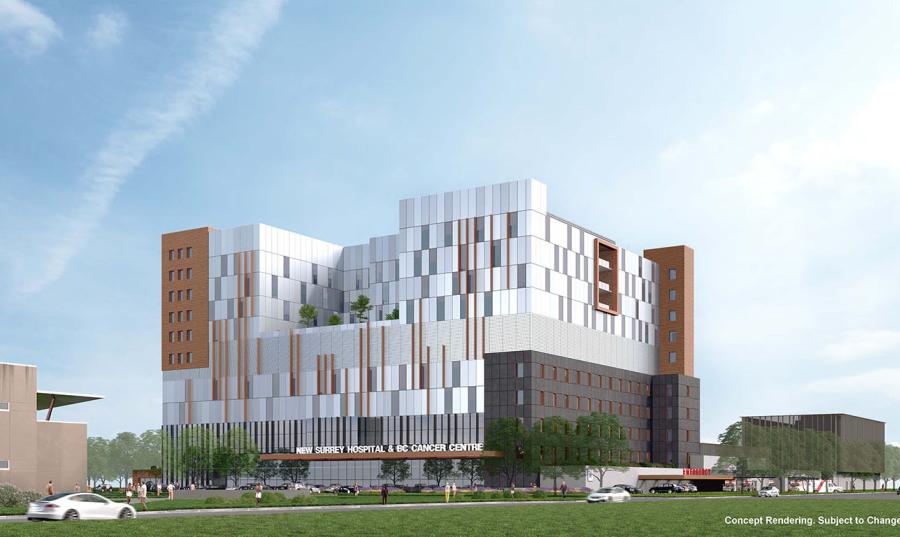 Public and private investment for health tech growth
The health-tech talent, research, and innovation coming out of Surrey is well-supported by a robust investment and policy strategy, from both the public and private sector.
Health tech in Surrey is poised to grow even further, with policies and investments including:
$1.66 billion for a new, state-of-the-art Surrey hospital, prioritizing state-of-the-art health tech and next-generation digital care
Unparalleled land availability for manufacturing, research, and development facilities
A provincial government commitment to establish BC's second medical school at the SFU Surrey campus
A clinical research centre for plant-based and progressive medicinal therapeutics for treating the PTSD and mental health symptoms of veterans and first responders, currently under construction in the Legion Veterans Village
Close to preeminent institutions, a cluster of bold-thinking companies, and space for newcomers to grow and expand, Surrey is uniquely located near several precursors for health innovation.
Across Canada — and the world — investors are betting that Surrey's ideal conditions for growth and collaboration will continue to produce groundbreaking, revolutionary results.