When people envision a "greener future," they think of one devoid of cars, trucks and motorbikes entirely.
But maybe the way we think of transportation just needs to transform.
Surrey has a burgeoning clean-tech sector
Right now, this sector is responsible for a huge proportion of greenhouse gases, accounting for 27% of emissions in Canada.
But as we move toward sustainability, industry and climate leaders are taking a more realistic approach. Cars, trucks, and motorcycles account for 44% of global miles travelled, and are unlikely to disappear overnight.
Instead, experts are looking to make them more sustainable — backed by consumers, looking for a break from high gas prices.
To get there, we'll need alternative energy sources, both for consumer vehicles and commercial applications like long-haul trucks. The two front-runners are electric vehicles, powered by lithium-ion (Li-ion) batteries, and hydrogen fuel cell technology.
Both have an exciting place — supported by public and private investment — in Surrey's burgeoning clean-tech sector.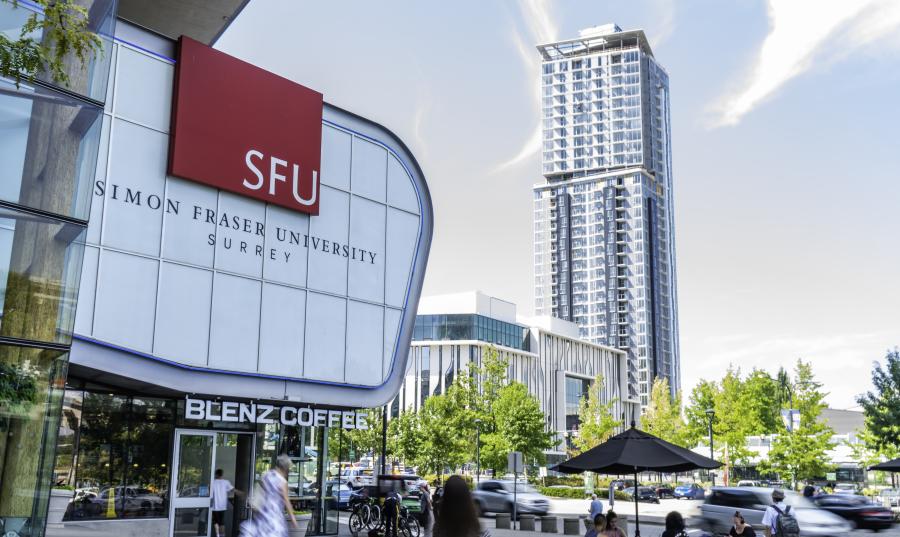 Surrey and alternative energy
Eastern Canada has a long history in automotive and auto parts manufacturing, with many companies already positioned to transition into the electric vehicle space.
But on the other side of the country, Surrey is drawing attention to Canada's West Coast as an emerging destination for the technologies that will fuel how we move tomorrow.
Surrey's own history in manufacturing has not just kept pace with, but helped to define today's Industry 4.0, including advancements in automation, robotics, and Internet of Things (IoT) technologies.
Groundbreaking research and development is happening through the Simon Fraser University's (SFU) School for Sustainable Energy Engineering and Mechatronics Systems Engineering programs as well as two of three SFU Fuel Cell Research Lab facilities. These programs are graduating 223 talented new professionals each year, which are highly sought after by multinational companies like Tesla and BC's Ballard.
Surrey is positioned to become a major player in alternative energy
Meanwhile, Surrey companies are pushing the industry forward at multiple points along the supply chain.
Research and development specialists Powertech Labs, electric vehicle (EV) manufacturer Damon Motors, and li-ion recycling tech firms Enersys and American Manganese are just a few local examples, complemented by regional peers like Ballard and Cellcentric in neighbouring municipalities.
These organizations represent the forefront of research and development into the alternative energy sources that will bring transportation into the 21st century.
Thanks to this rigorous grounding and forward-facing ethos, Surrey is uniquely positioned to become a major player in alternative energy.
Surrey and an electric future
Surrey is a hotbed of research, talent, and development in the EV space, particularly around electric vehicle manufacturing and lithium-ion battery research and development.
Through the facilities mentioned above, SFU Surrey is conducting groundbreaking research and development through its Mechatronics and Fuel Cell Research lab facilities. Talent graduating from these programs have also started their own companies in the li-ion battery tech space, including Moment Energy, who repurposes used retired electric vehicle batteries.
Areas of focus at the SFU Mechatronics Program include:
Stress-testing and diagnostics
Modeling and analytics of li-ion powered systems
Optimizing the battery manufacturing process
Recycling and repurposing batteries for minimum environmental impact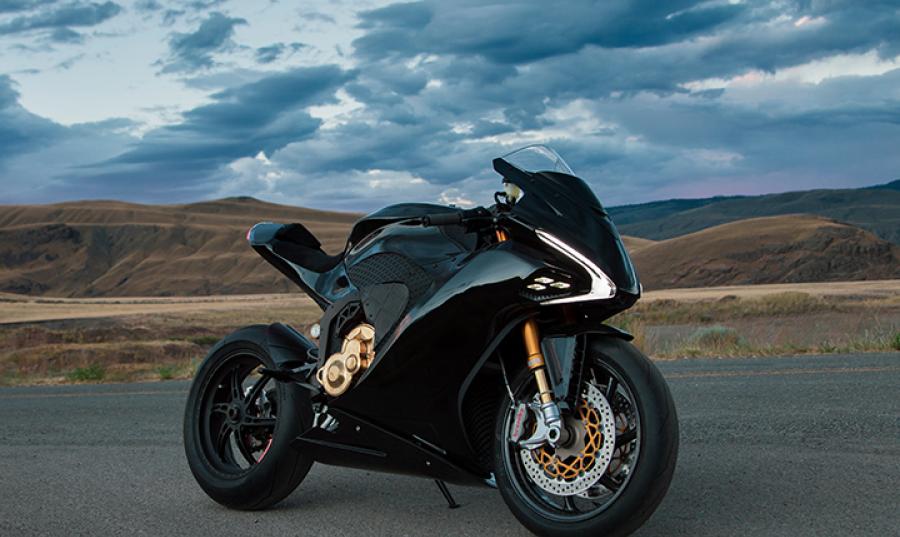 Electric vehicle manufacturing
Damon Motors is another trailblazer in Surrey's electric vehicle space. The firm chose Surrey because of the unique opportunity to keep both their design and upcoming manufacturing facilities close by — critical as the company moves towards vertical integration.
This land availability, along with Surrey's easy access to Asian auto parts manufacturers and regional talent, was a key factor behind Damon Motor's choice of Surrey as their headquarters.
Electric vehicle charging and infrastructure
Surrey's alternative fuel sector has enjoyed robust support from the federal and provincial governments. For example, through the CleanBC strategy, 90% of new cars sold in British Columbia will be electric by 2030 — and Surrey has the talent, research, and innovation to help meet that demand.
As a municipality, the City of Surrey is leading the way in investing in infrastructure in place to support an increasingly electric future of transportation. There are already 35 EV charging stations within the region, with 40 more to be constructed by 2025.
Electrum Charging is a major player in this space, providing end-to-end electrical infrastructure to corporations, governments, developers and OEM providers.
Hydrogen fuel cell for the long haul
Globally, Canada is already a top-10 producer of hydrogen — spurred in no small part by a $1.5B federal investment in the Clean Fuels Fund, which was established to increase the production and use of low-carbon fuels, including hydrogen.
Hydrogen fuel cell power has a wide range of applicability, but right now, its most immediate use-case is long-haul trucking.
This is a notable advantage, because due to the labour-intensive needs of this kind of transport, it's not a practical candidate for direct electrification. Surrey is home to exciting academic research, as well as active industry players, in this sector.
Surrey and hydrogen fuel tech
With Surrey at its epicentre, Metro Vancouver is home to Canada's largest cluster of companies that are leveraging its status as a top-10 hydrogen producer by developing hydrogen fuel cell technology.
Two of the SFU Fuel Cell Research Lab's three locations are based in Surrey, producing globally recognized research that is truly pushing the field forward.
These labs are in close partnership with major local and regional players — some of whom are already recognized on the national and international stage. Two examples are fuel cell pioneer Ballard, respected as the leading global provider of clean energy fuel cell solutions, and Surrey-based Powertech Labs, who is developing hydrogen refuelling infrastructure with global deployment potential.
Surrey-based firms Genesis Advanced Technologies and CIMTech Manufacturing are helping translate research into reality, working with multinational automakers to build hydrogen fuel cell parts and technology into their production process.
Transitioning to sustainability with renewable natural gas
Electrical vehicles, li-ion batteries, and hydrogen fuel cell technology are all exciting routes to a lower-emission future.
But as we work towards realizing these solutions, we need greener fuel sources — right now. One such fuel is Renewable Natural Gas (RNG), and it's already playing an important role in Surrey's local economy.
Conventional, pipeline-sourced natural gas comes from underground oil wells, and is typically a byproduct of the petroleum extraction process. Conversely, renewable natural gas is produced using local waste such as discarded food, yard and lawn trimmings, and other organic materials.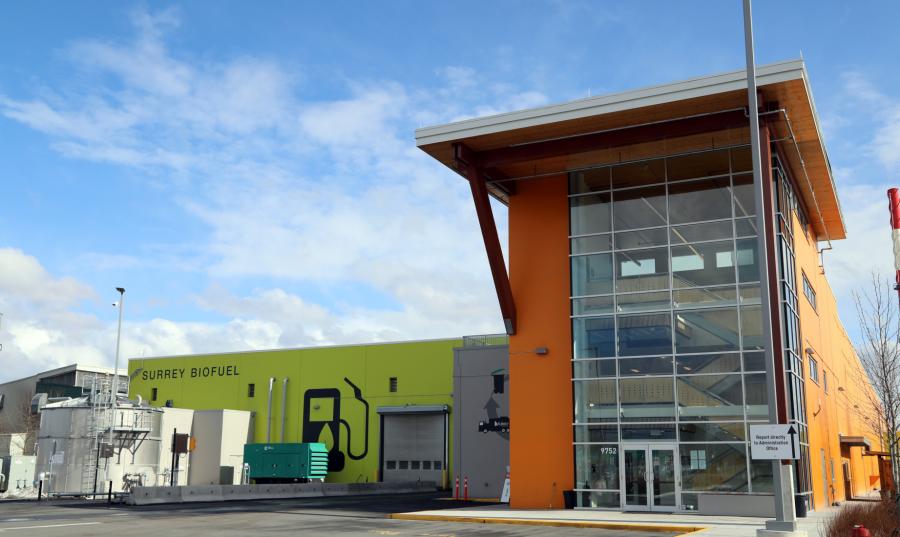 While RNG is not zero-emission and thus not a truly sustainable fuel, its production is significantly less environmentally damaging, making it an idea transition fuel as industry transitions towards electric vehicles and hydrogen.
The City of Surrey has taken the lead in implementing RNG into daily activities and operations. The Surrey Biofuel Facility processes organic waste into RNG, and is the first of its kind in North America. All of Surrey's organic waste trucks are fueled by the RNG produced.
Public and private investment for clean tech growth
The exciting clean tech talent, research, and development emerging from Surrey is no accident. On the contrary, it's the result of many converging factors.
Here are just a few ways recent policies and extensive public investments are advancing the clean technology sector in Surrey:
The federal and provincial governments' $90 million investment in SFU's School of Sustainable Energy Engineering
 CleanBC, and the federal commitment to achieve a net-zero emission economy by 2050
The Sustainable Development Technology Canada's federal funding for cleantech ventures across all stages of development
Surrey's optimal location keeps it close to significant foreign markets, while exceptional land availability makes it an appealing home for industry in a region where land is scarce. Thanks to world-class educational institutions, talent for these firms is readily available.
The result? A region with the potential to transform how Canada — and the world — understands transportation.