Demographics: A Growing, Young and Diverse City
Data & Insights
of Surrey residents speak a language other than English or French
Of Surrey's Population are Immigrants
Population Growth in Surrey: Surrey has a young and diverse population and is rapidly growing. The City currently has 21% of Metro Vancouver's regional population and is projected to surpass Vancouver's population by 2036.
Under 19-Year-Old Population in Surrey: Surrey is also home to a strong future workforce, with 25% of the region's under 19-year-old population living in Surrey. Our two provincially-funded universities (Simon Fraser University & Kwantlen Polytechnic University) are training this young and diverse group to take on the jobs of tomorrow, with the  University of British Columbia in the midst of planning an expansion into Surrey.
Temporary Residents and Knowledge of Unofficial Languages in Surrey: Surrey is a diverse city, with 45% immigrants and a total of 62% who speak a language other than English or French.  
Image

Image

of Surrey's population are in the labour force
of the City's workforce live and work in Surrey
of Surrey residents have post-secondary education
Surrey's Workforce by Home City: As of 2021, 65.8% of the City's population are in the labour force. Surrey provides work opportunities for its residents and nearby regions, with 63% of Surrey's workforce living and working in the City, and the rest coming from adjacent cities such as Vancouver, Burnaby and Langley. 
Surrey saw a 22% employment growth in the past 10 years, and the number of jobs is projected to grow by 16% over the next ten. Household income in Surrey has also been increasing. The median household income grew by 27% in Surrey between 2015 and 2020, with the share of individuals with employment income over $90k increasing over the same period. 
Post-Secondary Degrees Among Surrey Residents: Growing rapidly in the past 5 years, 61.5% of Surrey now have post-secondary degrees. Most of this group are educated in business, engineering and health related fields. These industries help to develop a business climate that responds to provincial priorities and creates a resilient local economy. Skilled occupations and applied sciences are also leading the employment recovery from the pandemic.  
Image

Top Industries & Occupations
Key Sectors
Transportation & Logistics
Top Industries: Surrey's economy includes a range of industry groups from retail, trades and logistics, to healthcare, business and professional services, as well as manufacturing. Surrey is a major manufacturing centre within Metro Vancouver. Whether you are talking about wood, furniture, computer/electrical, machinery, or food production, companies are thriving here. 
Top Occupations: Surrey has seen an impressive growth in the number of jobs over the past 10 years. The growing employment rate reflects positive economic conditions in the community and indicates that people looking for a job are getting matched to an appropriate employer, with sales and service occupations and trades, transport and equipment operations, topping the list.
Image

current general corporate income tax rate in BC
income tax rate for small businesses
business growth rate in Surrey
Business Growth in Surrey: There are over 19,000 businesses operating in Surrey, and the number grows each year. Over 3,000 new businesses choose Surrey as a location each year, taking advantage of our competitive tax rates and energy costs. 
Image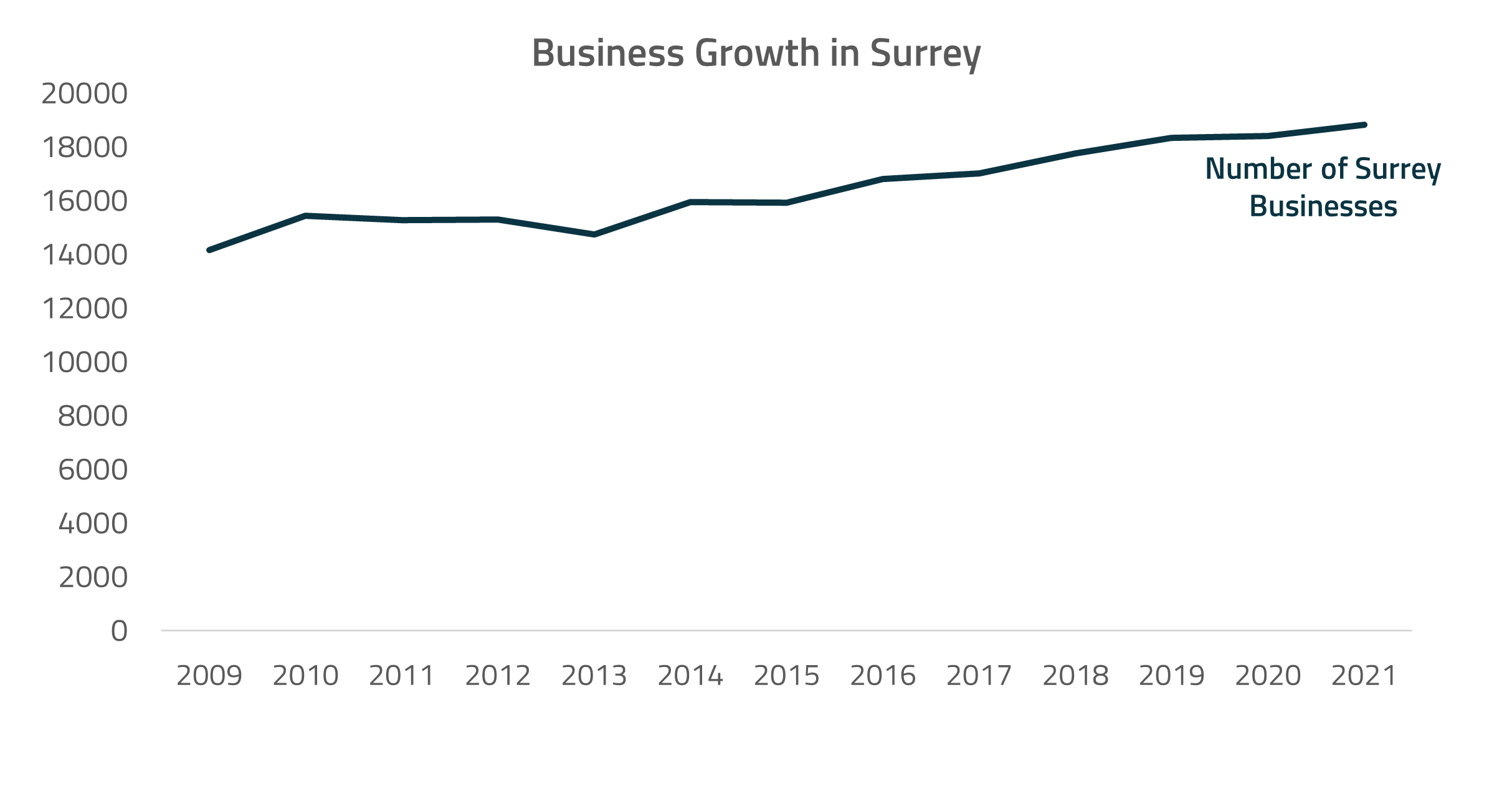 Comparison of Property Tax Rates: BC has two rates of corporate income tax: the general rate and the small business rate. The current general corporate income tax rate is 12% and only 2% for small businesses. Taxation of investment income applies at the same general corporate income tax rate. In Surrey, the combined 27% provincial and federal tax rate is below the average tax rate across all U.S. states and Canadian provinces. 
Comparison of Energy Costs: Surrey has significantly lower energy costs for both medium and large users when compared to major cities across North America, which makes it suitable for small and large businesses. In general, BC's electricity costs are among the most competitive in North America. The BC Hydro system, which services 95% of the province's population, has an average system availability index of 99.97%. Nearly 98% of the electricity generated in BC comes from clean or renewable sources, supporting corporate social responsibility or environmental, social, and governance (ESG) priorities.
Image