In our previous post we discussed sustainable building practices in a global context, challenges currently faced in the construction industry, the business case for green building and why Surrey continues to lead in this sector.
We will now take a a look at specific Surrey businesses that have prioritized green building practices.
Surrey companies leading the way
Achieving sustainability goals in the construction industry requires collaboration across the entire ecosystem, including materials producers, construction companies, developers, regulators, and technology providers. 
Fortunately, Surrey companies have established deep roots when it comes to fostering innovation and accelerating progress towards green objectives. Here are 5 leading companies who continue to put Surrey on the green building map.
Basalite Concrete Products
According to McKinsey & Company, the cement and concrete industry is a significant contributor to greenhouse gas emissions. Cement in particular accounts for a substantial portion of global emissions.
Fortunately, Basalite is ahead of the curve when it comes to embracing sustainable processes and products. 
"Our growth goals must always align with our desire to be solid global stewards. It is incumbent upon us to lead the way with commissioning processes that protect the environment," said Scott Weber, President of Basalite Concrete Products. 
Reforus is a green-technology company producing advanced bio-based urethanes for visionary wood manufacturers. They offer innovative opportunities for their clients to develop value-added wood products to serve untapped markets and grow sales. 
Their breakthrough green technology protects wood's structural integrity and extends its value. In turn, they enable wood manufacturers to earn higher profit margins and generate new opportunities in a global market.
"Our manufacturing process uses pulp and agriculture waste streams to naturally extend wood's performance," according to their website. "Manufacturers and builders improve their efficiencies because wood composites made with Reforus technology helps cut labour costs, eliminate processes and reduce materials needed."
Airfoam manufactures sustainable and budget-friendly building insulation, geofoam, flotation, and other construction solutions. 
One of the best energy solutions is to stop wasting it in buildings. According to Airform's website, the key to achieving no-cost building projects is by improving building insulation. In their experience, Expanded Polystyrene (EPS) insulation — which is about 98% air and is free of formaldehyde and CFC, HCFC, and HFC gases — is the most cost-effective way to add value to buildings.
Airform is deeply invested in sustainability initiatives. They have a company-wide environmental policy and proudly serve customers with an ISO 14001 certified Environmental Management System. Even more, they regularly help their customers achieve energy savings and reductions in life-cycle emissions.
Starline Windows has been a leader in the design and manufacturing of architectural aluminum window systems as well as residential vinyl windows and doors for over 50 years.
Their vision is to be an industry leader in reacting to the demands of the changing construction industry, including the increased need for energy energy efficiency. As such, Starline's Engineering and New Product R&D teams are constantly seeking out new ways to innovate.
Starline's products are designed for unmatched durability and quality, which has valuable environmental benefits. For example, their powder coating does not require the use of solvents and thinners so no volatile organic compounds are released into the environment. Furthermore, their state-of-the-art equipment utilizes environmentally friendly "Chrome Free" pretreatment and all powder is reclaimed by the system during the coating process.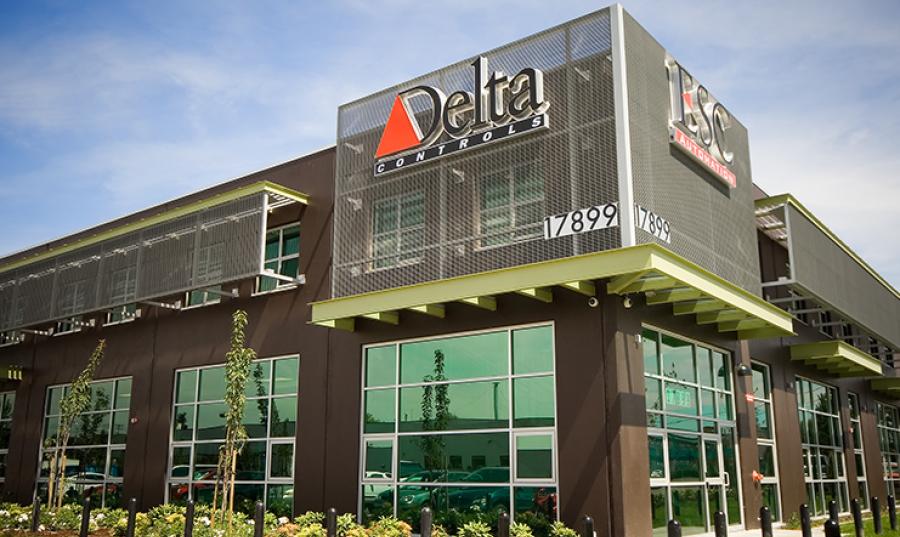 Delta Controls
Delta Controls is a building controls manufacturer at the forefront of building automation systems. Since its inception, the company has grown a distribution network of more than 300 partners across 80 countries. This enables a broad and global reach to offer intelligent, imaginative building solutions across various markets. 
Guiding their industry into a sustainable future is a north star for Delta Controls. In fact, their focus on innovation and sustainability has made them industry leaders for over 30 years. 
Notably, they were featured in gb&dPRO, an award-winning magazine for sustainable building solutions. They were also recognized by Frost & Sullivan as 2022 North American Company of the Year for products that "empower customers to save costs, condense energy use, [and] amplify operational excellence."
Surrey's green building advantages
Alongside the robust network of eco-friendly companies and materials producers, Surrey has numerous advantages for companies looking to establish operations in the city. 
First, Surrey's available office and industrial space provides opportunities to establish product development and large-scale manufacturing facilities in a central location. At 317.2 square kilometres, Surrey is the largest city in Metro Vancouver and has 18% of the region's industrial lands of which 32% is undeveloped or vacant.
Second, Surrey's rapid growth and the demand for green construction is a major driver behind current opportunities. Moreover, the existing green building ecosystem enables collaboration and streamlines stakeholder engagement. 
On the talent side, Simon Fraser University's Sustainable Energy Engineering program, as well as local programs in Mechatronics (SFU and Kwantlen Polytechnic University) provide local sources of production workers and engineers who are familiar with new materials and the latest best practices.
Surrey's vibrant green building and sustainability subsector doesn't show any signs of slowing down. Despite the challenges created by industry demands and governmental pressures, Surrey companies continue to lead the charge through innovative products and solutions. 
For more information on Surrey's green building and efficiency subsector, visit our Clean Technology page or connect directly with our team.