A new concept for a delivery system rolled into town this month.
ROLL-E 2.0, a four-wheeled robot, hit the streets for the first time in Surrey last week as part of a pilot project through the City of Surrey's Urban Technology Test Lab (UTTL). The delivery robot is the first initiative approved through the test lab.
Built for curbside and home deliveries
The InDro Robotics delivery robot made both curbside and home deliveries to London Drugs customers in Cloverdale on Sept. 9, following a longer-term pilot project with London Drugs in Victoria, B.C.
ROLL-E 2.0 travelled roughly two kilometres from the London Drugs at Cloverdale Crossing Mall, located at 17685 64 Ave. to deliver an online order to a customer's home.
For London Drugs, moving from curbside drop-offs to testing home deliveries offers a new level of convenience for consumers and a test-bed for the potential future of e-commerce.
"Following a successful pilot debut for ROLL-E earlier this year, we are thrilled to be further exploring its capabilities as we test home delivery in conjunction with Indro Robotics and the City of Surrey," says Nick Curalli, London Drugs vice-president of technology solutions. "This is an important step for our company as we look for innovative ways to serve our customers in the safest and most convenient way."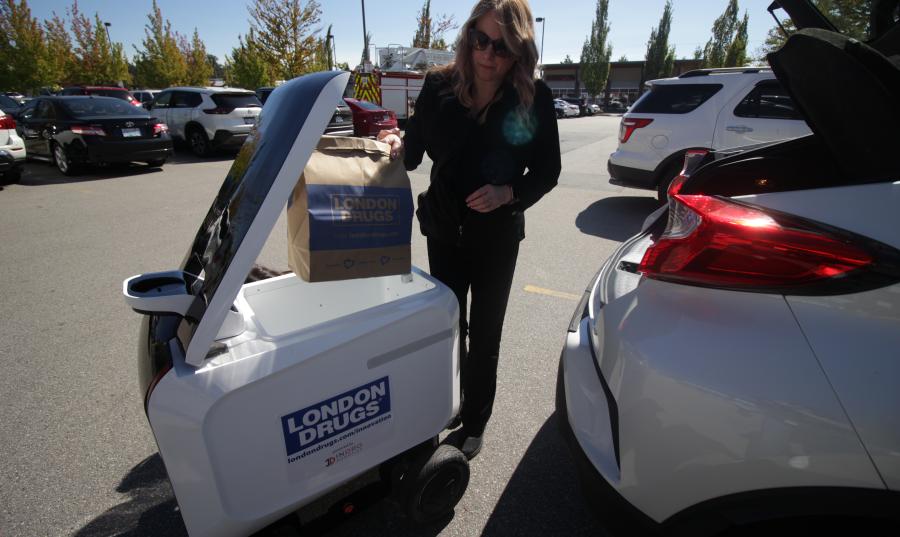 Second phase rolls out
The robot operates at a walking pace, securely transporting goods up to 50 kg in a sealed compartment that opens when ROLL-E reaches its destination. ROLL-E, which is designed for human interaction, receives instructions and transmits data over cellular networks and can be operated over 4G and 5G from hundreds –and even thousands – of kilometres away, as the operator sees its GPS location, system health and surroundings in real-time on a computer screen.
This was the second phase of the ROLL-E pilot project through the UTTL, which is an opportunity for companies to field test their transportation, agritech, clean tech or robotics innovation in the City of Surrey. The expedited intake process offered through this program provides technology firms with access to safe, local, "real world" test zones.
A plan to help reduce carbon emissions
Robotic devices are expected to play a significant role in "last-mile" delivery, with the potential to fulfill those functions with a reduced GHG footprint and lower traffic impacts that conventional delivery vans.
"Because ROLL-E 2.0 is electric, these deliveries will eliminate carbon emissions that would have otherwise been created by people driving to the store and back," said Reece. "This project involves a single robot, but deploying these at scale in the future will have a measurable impact on C02."
Surrey's geography plays into the Urban Tech Test program
The UTTL came about after the City participated in Infrastructure Canada's Smart Cities Challenge in 2019, with one of the key take-aways from the challenge was that tech companies in the process of developing software and hardware frequently lack a venue for field testing.
Surrey's geography, which includes agricultural and bare land, waterways, the region's largest road network, allows for a unique opportunity for field testing. As well, the City is outside of the restricted airspace for Boundary Bay and Vancouver International airports which allows for large airspace parcels with the potential for unmanned aerial vehicles testing.
"Responding to the need for technology testing areas, the Urban Technology Test Lab Pilot provides technology firms with access to safe, local test zones," said Surrey Mayor Doug McCallum. "Without the opportunity to field test in a real-world setting, many of the products could not proceed to final development and commercialisation. I am thrilled to see 'ROLL-E 2.0' hit Surrey streets for testing, and I am excited to see this initiative launch. The future truly does live here in the City of Surrey."
The city has entertained other applications, including an autonomous shuttle project from the University of Alberta and SFU, and in the lead up to the creation of the UTTL, an aerial drone testing project in partnership with Stratus Aeronautics involving thermal testing.
Do you have a transportation, agritech, clean tech or robotics innovation you'd like to pilot?