With food security being top of mind for so many people, many companies and researchers are looking to innovative ideas to help.
And, again, Surrey is uniquely positioned.
And it's the fact that Surrey is such a forward-thinking city that it is now home to a new agritech innovation centre, says Sylvain Moreno.
Sylvain Moreno is special advisor to the Vice-President of Research and International Chief Executive Office, and Scientific Director of Simon Fraser University's B.C. Centre for Agritech Innovation. Moreno is also the found of SFU's circle innovation model which fosters connection, collaboration and commercialization to help agritech SMEs reach the market faster.
Surrey is home to a new agritech innovation centre
Opened in September, the centre has received $16.5 million in federal and provincial funding to date: $6.5 million of that is funding from the B.C. Ministry of Jobs, Economic Recovery and Innovation over the next three years and $10 million over the next five years is coming through Pacific Economic Development Canada (PacifiCan).
The agritech innovation centre, which has a goal to create more than 30 jobs and train 1,250 skilled workers by 2027, is a collaboration between different colleges and universities that provide expert researchers and infrastructure to test and develop products.
"The idea is that when a company has a need of academic expertise, then we will be able to go and discuss with the different university to see if they have an expert that could come on the project and help the company to build this new product," explains Moreno.
It's meant to connect small- and medium-sized enterprises (SMEs) in the agritech sector with researchers, government and industry partners to develop technology solutions that build resilient supply chains and generate global solutions for food security and climate change.
To be considered in the centre's application process, projects must be related to agriculture, agri-technology and agri-foods that have the potential to be commercialized within 12 to 24 months, and they must be B.C. based, privately run and in operation for at least two years with a clear plan for business scale up.
A central location needed
So how did Surrey become the location for this new agritech innovation centre?
Moreno points to Surrey being located centrally in the region and with easy access to the rest of the province.
Surrey also has the tech and farming and agriculture within close proximity of each other.
"The energy in Surrey is fantastic in terms of innovation and growing," he explains. "There are several companies that are in agritech or food supplies or the agriculture chain in Surrey, so that's a very innovative environment in agriculture."
Decades of innovation has already been happening in Surrey
One of those companies is Argus Controls, which is located in the Cloverdale area. Argus provides plant-centric control and automation systems for the world's most demanding commercial horticulture, bioscience and specialty crop applications.
Kevin Meier, the vice-president and general manager of Argus Controls, says the company has continued to be a market leader in its technology and development after nearly 40 years.
"The primary product that we sell today has already been around for 15 years. And, you know, to be a market leader with a technology that's already 15 years old tells you something about the innovation, the kind of forward thinking that went into that product that many years ago."
However, when people think of automation, the first thing they might think of is robots, but that's not the case with Argus.
"Instead of somebody going and having to hand-water a plant, now we're automating the ability to not only water the plant, but deliver the right nutrients at the right time for that growing environment," he explains.
And those agritech innovations are producing yields far beyond what can be done on the field, noting that one client is producing a million heads of lettuce every other week on a 12-acre site.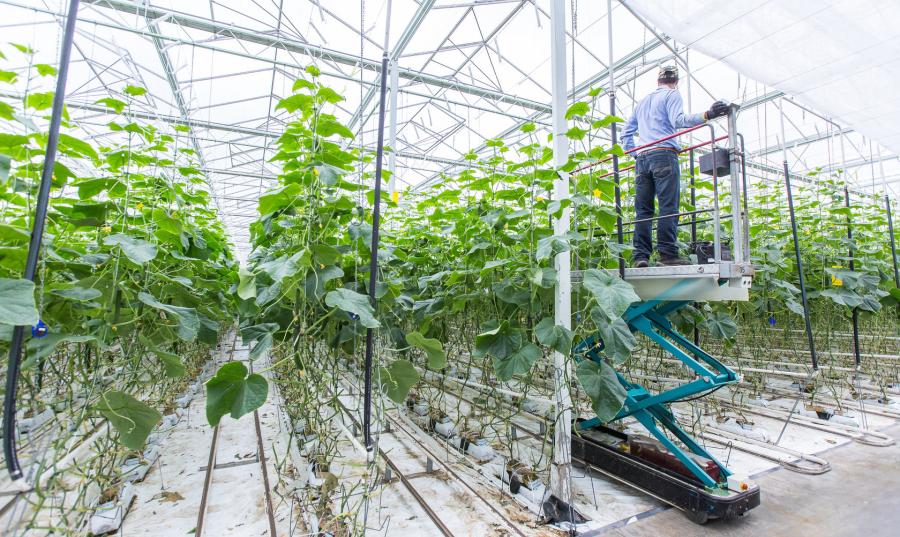 Changes in regulations allowing for innovation in ALR
Earlier this year, the province made an improvement to the ALR Use Regulation to allow for more intensive farming, known as vertical farming, where crops are grown in vertically stacked layers, maximizing space and reducing energy costs and greenhouse gas emissions. While vertical farming can be placed anywhere, this opens the door to additional opportunities on ALR land for farmers and farm businesses to produce more food for British Columbians.
Part of the StrongerBC Economic Plan, the regulation is an important step toward making B.C. a leader in using technology and innovation in agriculture to reduce emissions, create new opportunities and ensure a secure and sustainable food supply for British Columbians.
"I think you'll see these technologies kind of merge. Things that we learn in vertical farming will come into greenhouses, what we're learning in the field will come into vertical farming," says Meier.
Innovation and the food-supply chain
B.C. is home to more than 150 companies that develop and produce world-class agritech, helping to address production issues arising from a growing population with increasing expectations for sustainability and traceability and to increase food security in a way that is efficient and innovative.
Those companies provide solutions ranging from drones and robotics to remote sensors and waste technologies.
Dave Eto, meanwhile, has decades of experience working with food manufacturers and aligned industries, and most recently he's been heavily involved with work in circular economies and working with upcycled products, where food and beverage companies figure out ways to create value from their unavoidable food waste.
Eto says that every year thousands of tonnes of spent grains is generated in Canada, which then goes into landfills or gets used as animal feed.
"While we may say, well, animal feed's a great use of the product. If we can convert that into human food, technically speaking, it has much higher value," he explains.
"I think COVID and supply chain disruptions have really caused a lot of us to look at things differently because you're not going to solve tomorrow's problems with historical perspective," he explains. "You have to create a different way of looking at it."
For Moreno, that's another part of the agritech ecosystem that is being looked at through the new innovation centre: the food-supply chain.
"How we can produce food in a better way that also satisfies the demand of the customers, right? Like the customers in British Columbia want to eat healthy food that are the quality of Canadian farmers' productions. And so, how can we bring that to B.C. as citizens?"
But the centre is only just starting that work.
"Obviously, technology cannot adapt to every place in the world and that's not what we are saying," notes Moreno.
"But there is a common element that we can broaden the market outside of BC. And I don't think we should limit ourselves to the Canadian market, I think, Surrey and the stakeholders in Surrey are extremely ambitious and I think they have the right to do so because they are brilliant, so I think the point is how to help them to really reach those horizons."