Surrey is emerging as beacon of opportunity for medical professionals seeking to make a meaningful impact in the healthcare industry. Our thriving healthcare ecosystem is fostering companies and organizations that are tackling society's most pressing health challenges, from chronic disease to the opioid crisis. 
It's important to recognize that the city also faces overburdened healthcare facilities and a practitioner shortage. However, we view these challenges as an opportunity for innovation and growth, especially since pharmacists were recently granted expanded prescribing powers in British Columbia. With the promise of a new hospital and new medical school we talked about here, Surrey is building innovative solutions to meet these challenges head-on. 
Now that pharmacists are equipped to make a bigger impact, let's delve into the top three reasons why pharmacists should consider Surrey as the destination for their pharmacy businesses. 
1. Surrey's thriving healthcare ecosystem
There is a bustling hub of over 220 life sciences businesses and clinicians in the heart of Surrey—specifically in the City Centre and the area surrounding Surrey Memorial Hospital. This concentration creates a vibrant environment conducive to collaboration, learning, and professional growth, making Surrey an ideal place for pharmacists to establish their businesses. 
Notably, the provincial government has demonstrated its commitment to supporting this sector. For instance, a staggering $1.66 billion has been allocated for a brand-new, cutting-edge Surrey hospital and cancer center. This new facility promises to raise the bar for digital health and technology, firmly positioning Surrey at the forefront of healthcare innovation. Pharmacists are invited to be a part of this transformative journey, actively contributing to the city's healthcare advancements. 
In our previous article, we highlighted the strong presence of post-secondary institutions in Surrey, consistently investing in nurturing the skilled talent of tomorrow's healthcare workforce. Data from the University of British Columbia (UBC) even indicates that 60% of students with clinical placements south of the Fraser River choose to work in Surrey upon graduation. Growing healthcare businesses can be confident that Surrey has the local talent you need to meet your goals. 
This flourishing healthcare ecosystem is not the only reason that life sciences businesses and clinicians are drawn to Surrey. This growing healthcare network is complemented by a favorable business climate and an exceptional quality of life. With competitive taxes, lower operating costs, and a lower cost of living, Surrey offers an attractive environment for businesses to thrive while ensuring a high quality of life for its residents.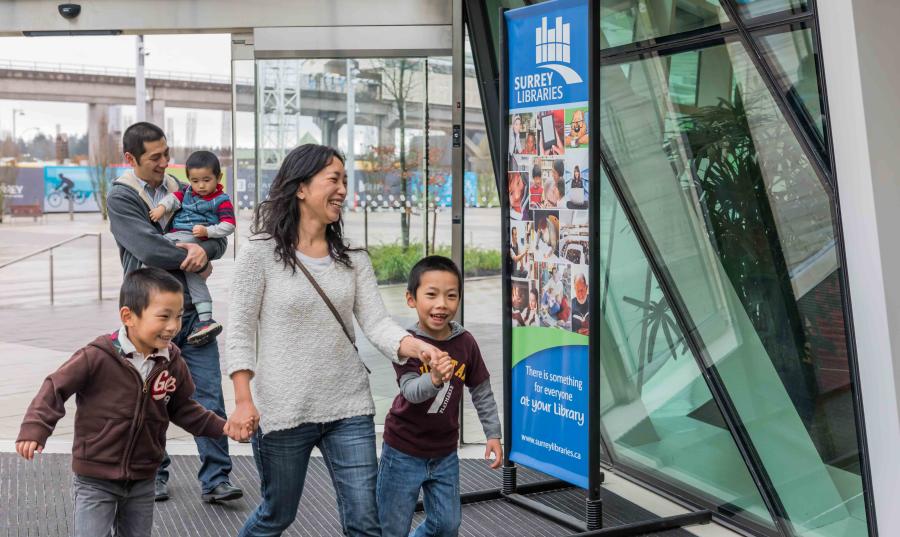 2. A surge in population and diversity
3. Expanding Pharmacist Scope of Practice
Surrey's rapid population growth has not been mirrored in its healthcare services to the same extent, which opens a lot of new opportunities for more medical service providers. Despite being poised to surpass Vancouver in terms of residents, Surrey is still playing catch-up in terms of available health practitioners per capita. 
Family practitioners and specialized health experts in Surrey face the daunting task of catering to a growing patient base due to the lack of practitioners. This mismatch affects the overall quality of healthcare services provided. Specific areas like Cloverdale, Fleetwood, and Guildford are hit particularly hard by these challenges, presenting opportunities for pharmacies to bridge this gap.  
Furthermore, it's worth noting that residents from neighbouring cities also rely on Surrey's healthcare infrastructure, amplifying the demand for accessible healthcare services. 
With challenges come opportunities. Pharmacists are well-positioned to drive transformative change and bring about better health outcomes in Surrey.  
If you envision your pharmacy business flourishing in a dynamic, diverse, and innovative environment, Surrey extends a warm welcome to you. Take the next step by connecting with our team today and become an integral part of Surrey's healthcare transformation. Together, we can build a healthier and more prosperous future for our community.